As a woman who takes joy in serving my friends and family by preparing delicious foods, I really enjoy this time of year as a challenge to take our everyday ingredients and transform them into something decadent or indulgent. It is also an opportunity to share some of the foods I grew up enjoying and the memories that accompany them.
One of my favorite recipes for Christmas is Struffoli.
I grew up calling them Honey Balls and knowing that the Christmas season was the only time they would grace our table. They are a Neapolitan dessert (other regions of Italy have variations too, like Pignolata in Sicily).
Honey balls are a treat that is so ingrained in my memory that the only things listed on my recipe card are the ingredients and their measurements (well, most of them).
For the dough: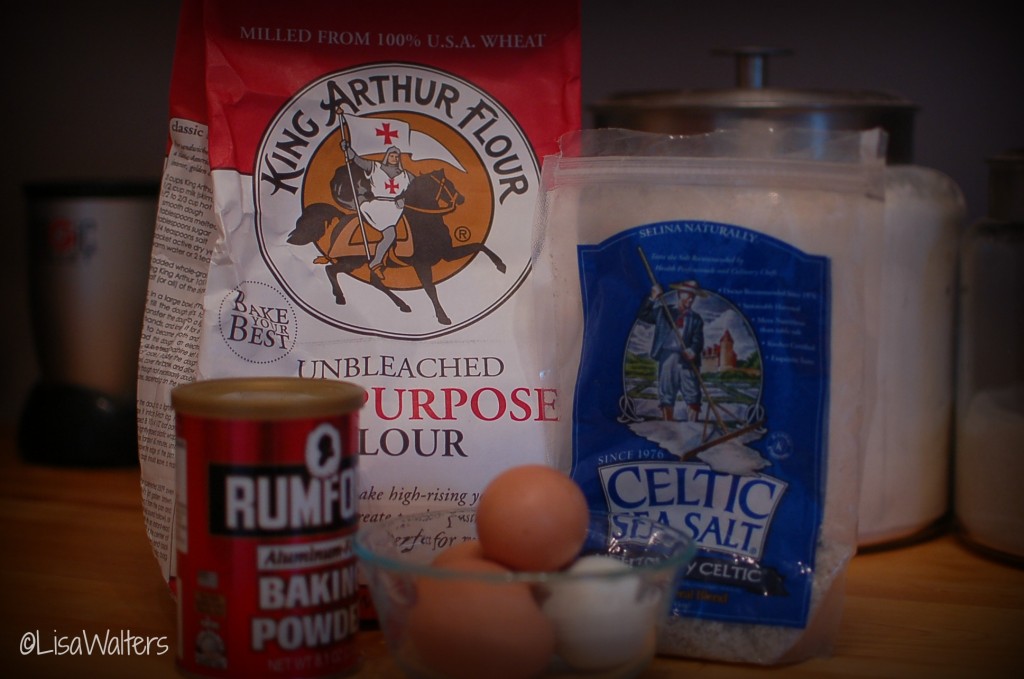 2 cups of all-purpose flour
4 whole eggs
a pinch of salt
a pinch of baking powder
For the sauce: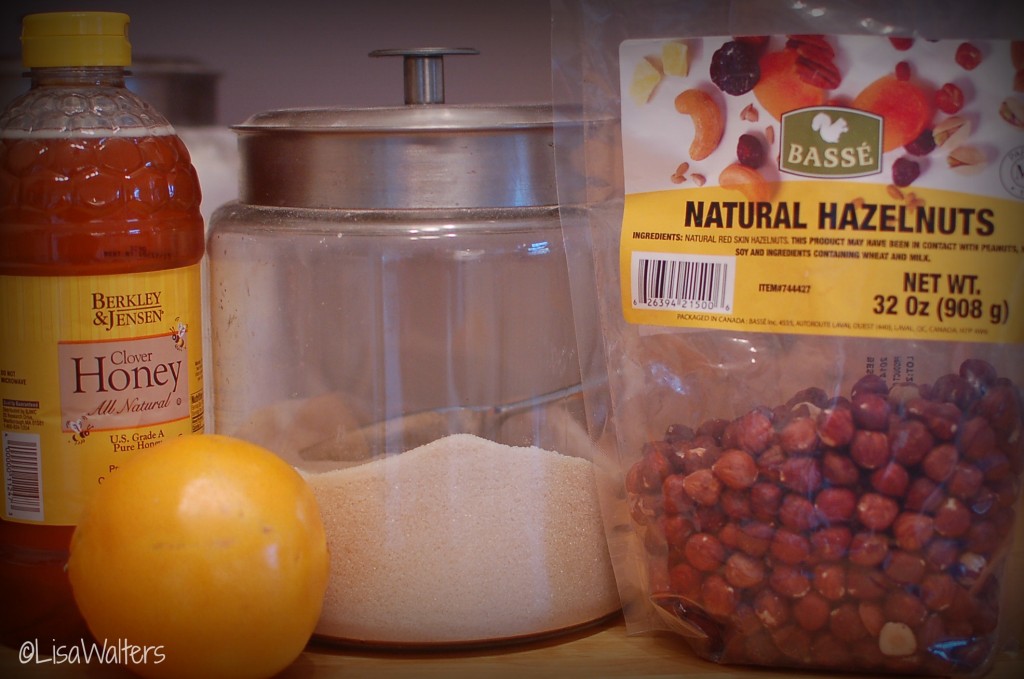 honey
sugar
tangerine or clementine peel
hazelnuts
Making the struffoli:
I don't need the instructions because the echos of my mom and my grandma are in my heart and mind to remind me of each step. But today, I will share what was passed down to me with you.
When my mom would make honey balls, she'd start with a flour well, add the eggs and salt and baking powder, and mix with a fork to incorporate. I take the easy route and let my stand mixer do all the hard work. Place the first four ingredients in the mixer bowl and combine. I switch to the kneading hook to form a well-mixed ball, similar to pasta dough. *Do NOT double the recipe.* Every time we've tried doing that, we've ended up throwing out batches because they do not turn out well. If you'd like to make a bigger batch, mix each one separately; you can combine all batches in the next steps.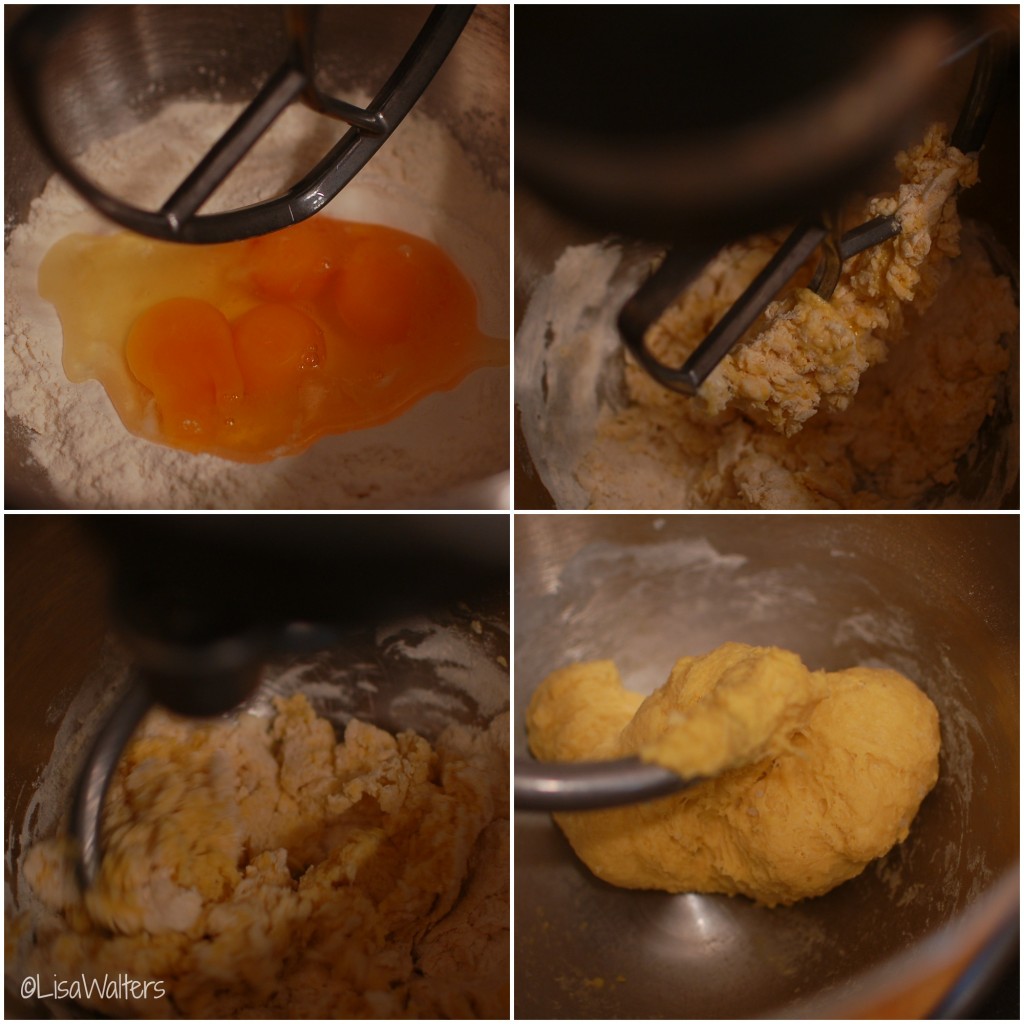 Dust the ball of dough with flour and allow it to rest, wrapped in plastic wrap so it doesn't dry out, for about a half an hour while you clean up and get ready for the next stage: rolling, cutting, and frying!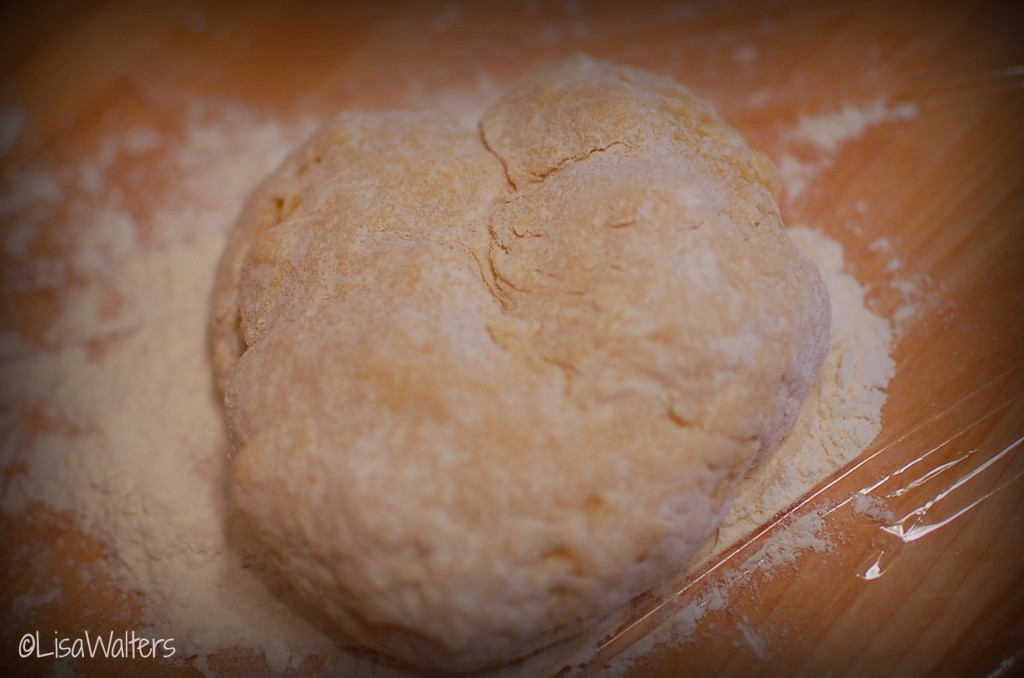 Gather your helpers!
This is the part when many hands are needed. You'll cut the dough into manageable portions and assign everyone "snake-rolling" duty. If your littlest ones are like mine, you will want to plan on NOT using the dough they are using, since they will treat it like play dough and it is certain to be in their mouth, on the floor, or stuck to the ceiling. This is the part I remember with lots of smiles. My grandma would be sitting with us telling us not to roll them too big or too small. She'd also tell me to keep my tongue in my mouth, because the tell-tale sign of my concentration would always be my tongue sticking out! I tell the children that the snakes should be about the same thickness as their pinkie.
Each snake is then going to get cut into 1/4″ pieces. Your little ones can do this with a butter knife. When I'm trying to get through this stage quickly, I just do it with a dough cutter and toss the pieces with a little flour to keep them from clumping together before the fry.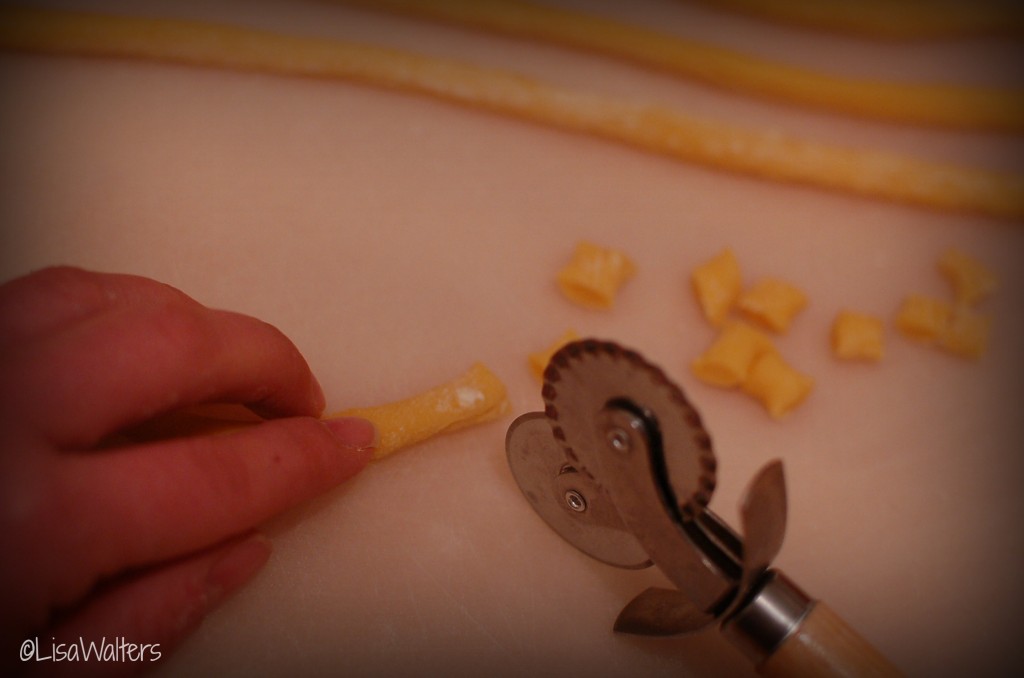 Time to fry up the dough!
In a medium-large pot, add your favorite frying oil, and have a slotted spoon or frying basket ready. For a single batch I use a 3.5 quart pot and 3 cups of canola oil. If you have a frying thermometer, bring the oil to around 325*. If, like me, you don't have a thermometer, your oil will be ready if, when you insert the handle of a wooden spoon, you get a steady stream of bubbles.
I add about a handful of pieces to the oil for each batch. Keep the little ones safely away for this portion, because sometimes it splatters! Don't add too many at once; you want them to have room to expand. Once they're a nice golden brown, take them out and let them sit in a big bowl lined with paper towels to absorb any excess oil.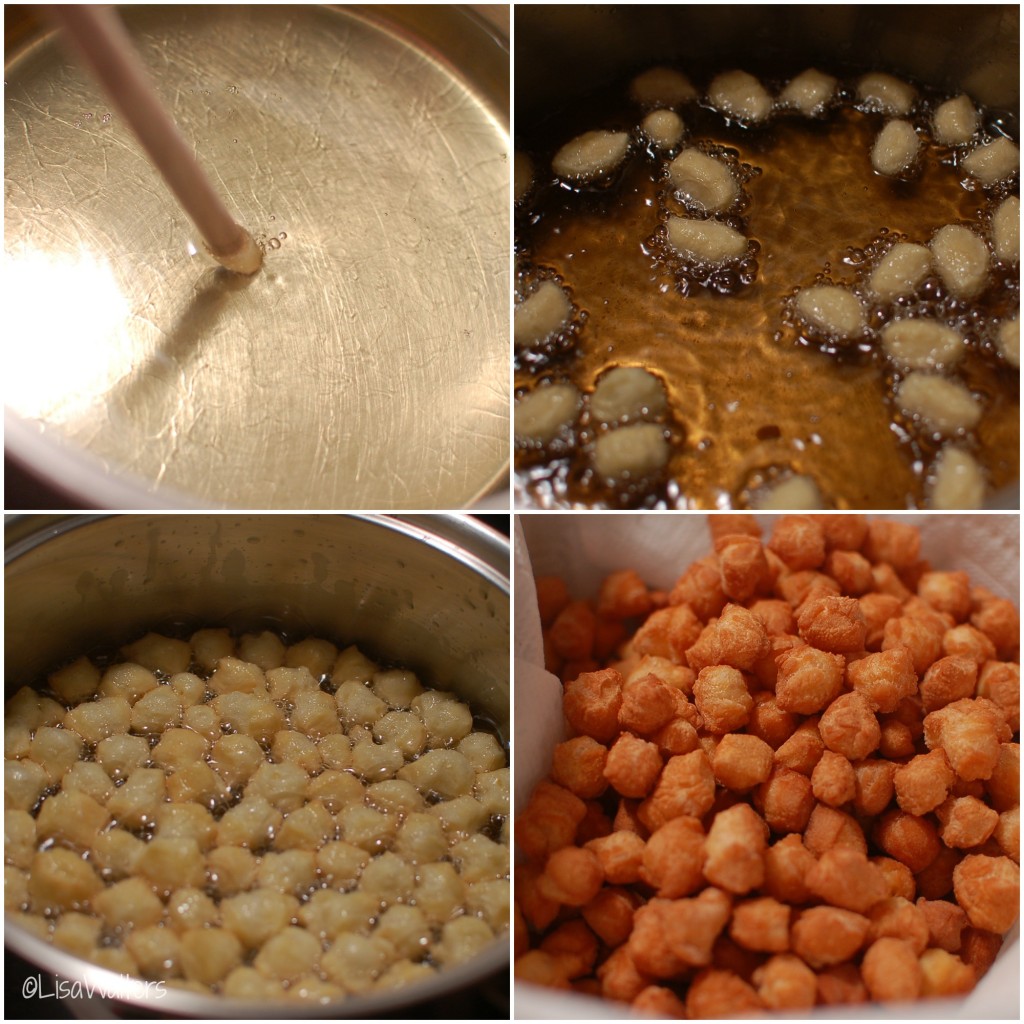 Everyone around here likes to eat them just like this. We pop them in our mouths like popcorn! They're very light and crunchy, but not hard. Once all your dough is fried, you're ready for the next steps.
Adding the honey sauce:
For this stage you'll need to toast the hazelnuts and remove as much of the skin as you can. Don't forget them in the oven. If you smell them toasting, they're probably burning. We almost always burn a batch or two–not good eats! If you've made more than one batch of dough, you'll need to make more of the honey mixture, too.
For this single batch I used 1.5 cups of honey; 1/2 cup of sugar; the peel of one orange, finely diced (clementine or tangerine is preferred, but I used what was on hand); and 1 cup of toasted hazelnuts, chopped. Remove the paper towels from the bowl and toss the hazelnuts with the dough balls.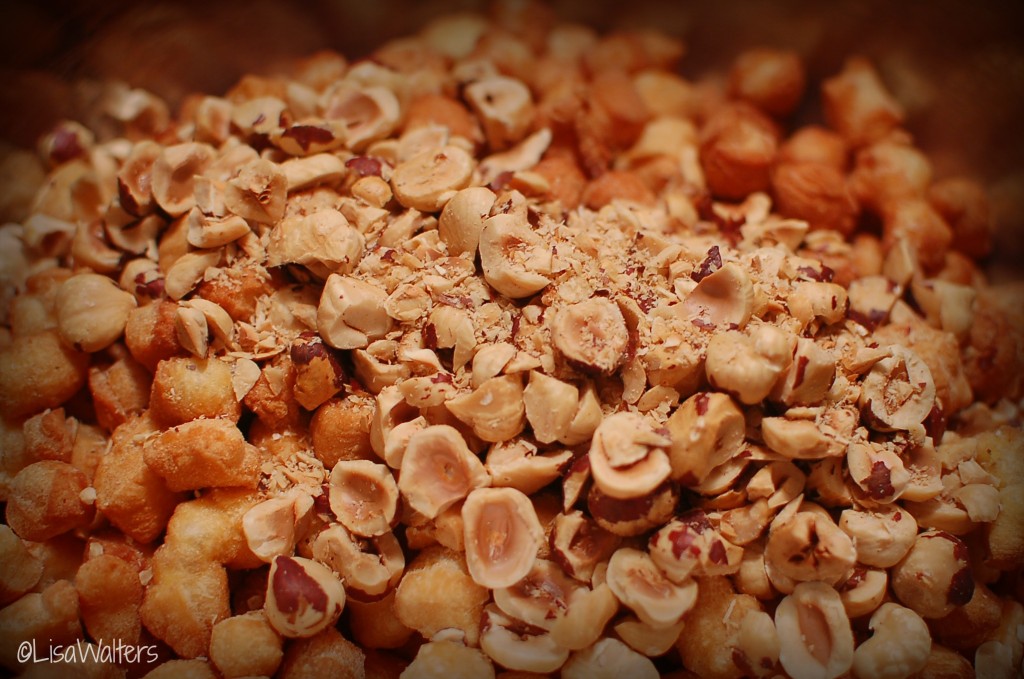 Add the honey, sugar, and citrus peel to your pot and bring to a rolling boil. Let it boil for one minute and then remove it from the heat and allow it to cool and thicken a bit. Pour the honey mixture over everything and toss to cover the whole batch.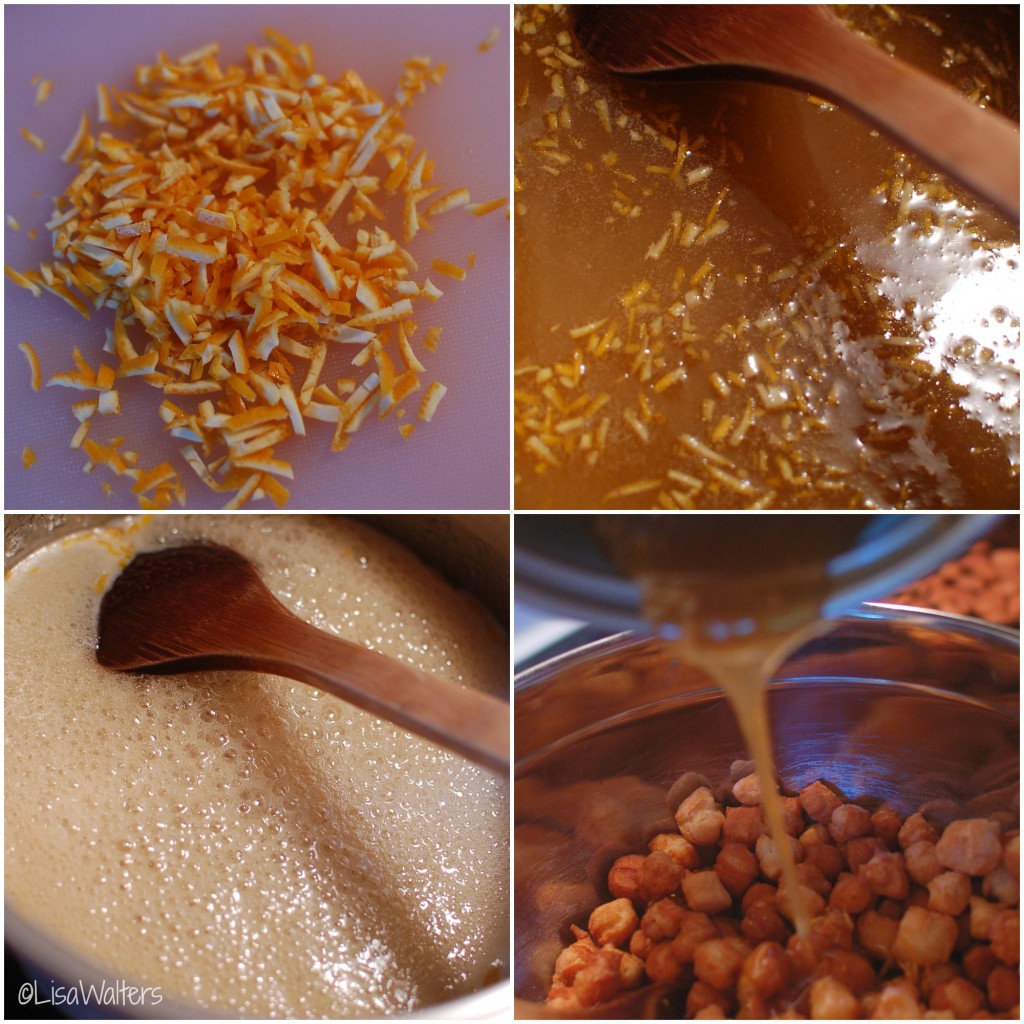 Pour out into a lovely pile on a pretty serving platter. Add a sprinkling of nonpareils to make the dish look even more festive. It makes a great centerpiece on the dessert table. As a teen, this was always my favorite breakfast to pick on as we opened presents Christmas morning.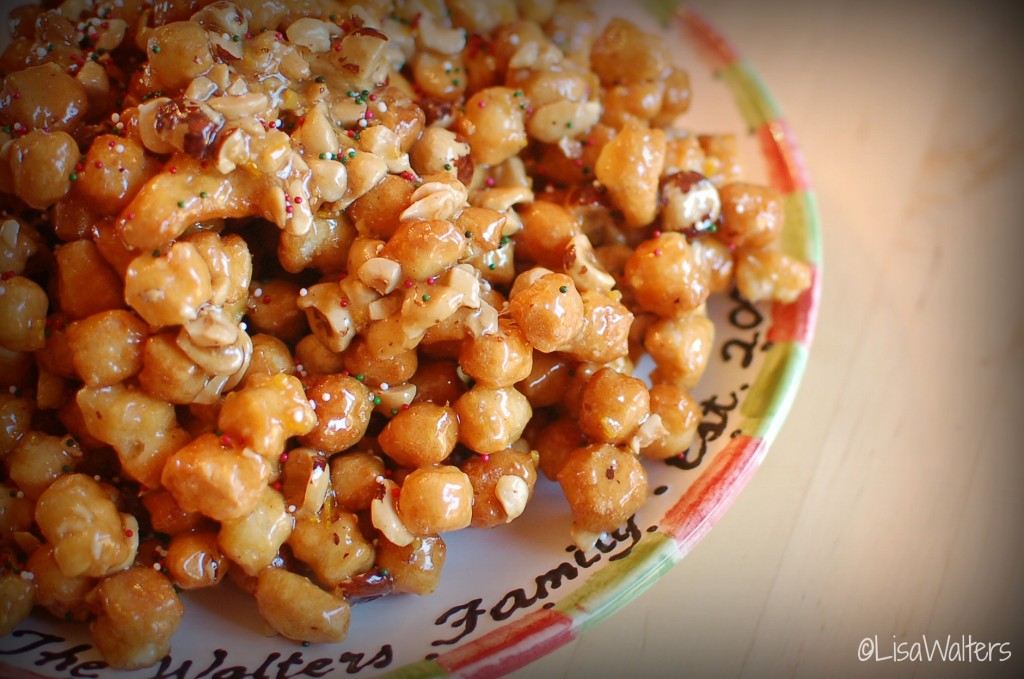 Enjoy!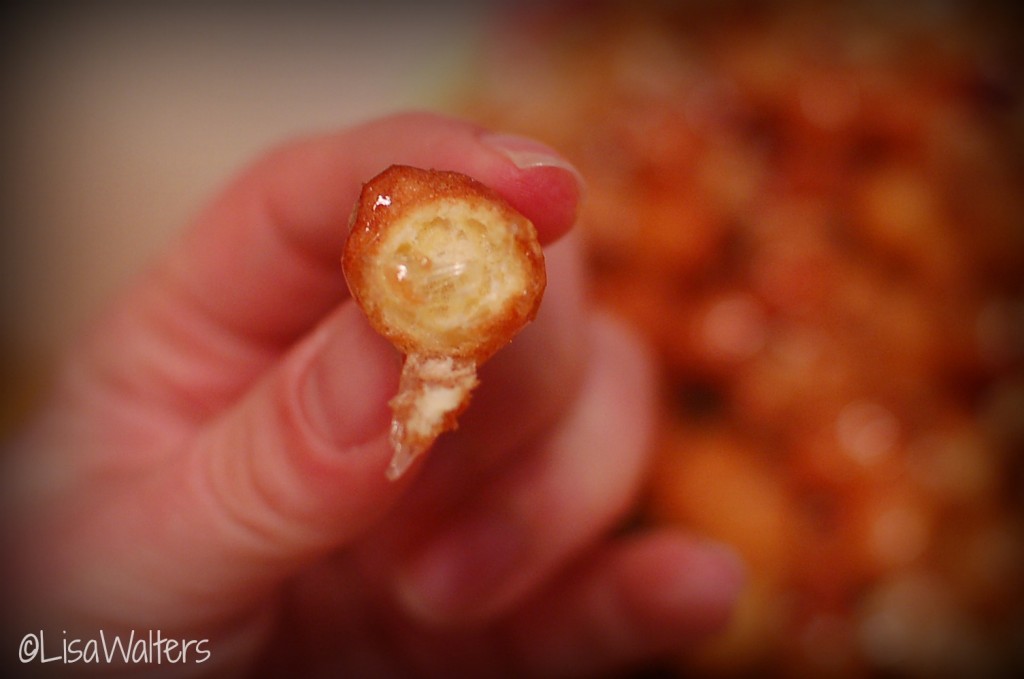 Lisa is the help meet and wife of Vince, and their twelve years of marriage have been blessed by seven beautiful children. She is wrapping up the third year of homeschooling and is still waiting for the school year that goes as smoothly as planned. Lisa is an avid knitter, an admitted food-snob, and hopelessly over-committed. She shares the adventures, struggles, successes, and challenges of a larger-than-some family who is always learning how to lean hard on the Lord during the trials and joys of this life on her blog Looking at Life CreativLEI. You can also find her on Facebook, Twitter, and Instagram.
Don't Forget to Check Out The Recipes Each Day!
The following two tabs change content below.
Carlie Kercheval
Carlie Kercheval is a happily married work-at-home homeschooling mom. She and her college sweetheart have been blessed with 3 precious children to raise while traveling the world as a military family. Carlie is the founder of
Today's Frugal Mom™
and
Fulfilling Your Vows™
. She is also the co-author of the
Learning to Speak Life™
family Bible studies. When she is not busy enjoying her family and the great outdoors, you can typically find her cozied up somewhere under a blanket with a good book. You can connect with her on
Facebook
,
Pinterest
, and
Twitter.
Latest posts by Carlie Kercheval (see all)